Quick Trip to Zion National Park
click the small pictures to see larger ones
On Saturday, before Ronna and Mark's wedding, Al and I drove from Kanab, UT to Zion National Park. I had been there once before but it was so long ago that I was eager to return. Al had never been there and he's always up for exploring desert canyons. As we drove through the entrance tunnel, we marveled at the views. Once on the other side, we stopped at nearly every overlook and viewpoint we could. We just couldn't get enough of the scenery! The cactii were in bloom, too, which just added to the beauty.
Zion operates with a shuttle system so we parked our car at the Visitor Center and climbed on board. We got off at Weeping Rock, since Mom had suggested we make sure to check it out during our brief visit. The hike up the hill was short and the rock itself was so neat! The water sprinkled and sprayed down around us while we soaked in the view from up high. It was amazing and we lingered there for quite some time.
Eventually, we got back on the shuttle and returned to our car. We stopped at the Checkerboard viewpoint, too, and then went back to Kanab, our appetites whetted for a future, longer, visit to this amazing place.
photo credits: My camera broke just before this trip, so all photos on this page were taken either by Mom or Nathan. I'm very grateful to them for letting me use them on this site.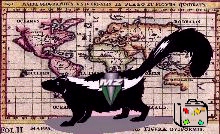 page maintained by
Cheryl