Trip to Wyoming: Ronna & Mark and Yellowstone National Park, September, 2008
Click on the small pictures to see larger ones.
Al and I set out in his Beetle and drove the length of I-84 from Portland, OR to Salt Lake City, UT. We stopped in Boise on the way but we didn't linger, as I was excited to see my sister and Mark in their new home in Evanston, WY.

We flew through SLC and over the pass to Evanston, arriving on their doorstep just in time for dinner. It was a great day and their house is really nice: warm and inviting. We had a great dinner and Mark made drinks at his spanky bar in the basement and we took a long walk in the gently rolling hills around their house. The view was spectacular and I envied the feeling of remoteness that they have in their little town.

We even went out for ice cream!
After a hearty breakfast the next morning, we set off north. We stopped at Fossil Butte and spent more time there than we thought we would. It turns out that both Al and I are science nerds and we had a hard time turning away from the incredible fossils they have on display at the visitor's center. If you go, be sure to watch the film as it's very educational and helps explain the uniqueness of the surrounding lands.


BLURB

BLURB

BLURB

BLURB

BLURB

BLURB

BLURB

BLURB
Storms chased us all the way to the Grand Tetons National Park, which is where Al booked us into a cabin on Coulter Bay, not far from Jacob's Lake. The cabin was cozy and warm and we were so thrilled to finally be able to unpack for a few days. I walked around the bay a little bit, admiring the view while Al rustled up some coffee from the camp store nearby. It was a great day to arrive.


BLURB

BLURB

BLURB

BLURB

BLURB

BLURB

BLURB

BLURB
Next morning, we drove the 30 miles into Yellowstone National Park. It was a cloudy and foggy and made our entry to the park full of mystery. We could barely see the tops of the trees for all the mist that moved slowly across the road. It was amazing. We stopped at FIRST PARK and strolled the boardwalk along Yellowstone Lake. The thermals were amazing and were all the more dramatic because it was very cold outside that day! Some moose watched us sightsee and didn't seem to mind when we took their photo.


BLURB

BLURB

BLURB

BLURB

BLURB

BLURB

BLURB

BLURB

BLURB

BLURB

BLURB

BLURB

BLURB

BLURB

BLURB

BLURB

BLURB

BLURB

BLURB

BLURB

BLURB

BLURB

BLURB

BLURB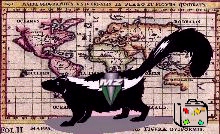 page maintained by
Cheryl